One Hundred Years of History
This Wednesday afternoon from the City of Arts and Sciences, Valencia CF presented a new kit that commemorates the centenary year of the club. Its design represents the past, the present and the future of our great club.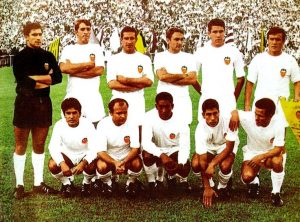 White shirt, white shorts, black socks and with a hint of gold. A throwback to a simpler time, replicating the original colours of the club, whilst recognising the significant achievements and advancements made by all of its contributors.
After an impressive introduction from our club's historians, I took part in the presentation, unveiling the new look with teammates Jose Gayà and Carlos Soler. It was an honour to be selected as one of three players to represent my childhood club in that way.
What was particularly moving for me, was the President's focus on the Valencia CF Academy. Recognising that they represent the future of our club was of great significance to me having joined the club at the age of seven, and progressing to the point I am at today.
This event has just served as another reason – more motivation – to succeed next season, to keep pushing the limits, keep improving and to keep developing the Valencia CF story. Here's to another 100 incredible years! Amunt Valencia!